Super Heavy-duty Garden Workshops
Extremely adaptable, spacious and customisable for any use, our Garden Workshops are the perfect place to put a hobby, business or DIY project into practice.
Whether converted into an art studio, office, dog grooming parlour or beauty salon, our multi-purpose workshops can be built to your personal preferences and the possibilities are never-ending!
Our sheds are constructed with 40mm x 60mm super heavy-duty framework and 22mm (20mm finished) tongue and groove pressure treated walls and floors to give the building superior strength and protection meaning it won't be compromised on fungal decay, wood-boring insects or any other environmental damage. (Most other suppliers manufacture in 12mm finished tongue and groove or use inferior shiplap timber – double check before you buy!)
There is almost no limit to the variety of sizes, the configuration of doors and windows or optional service packs we can offer, we make your shed to order how you want it.
If you're looking for a cost-effective option, we also offer a selection of sizes in a 14mm rustic T&G and 40mm x 40mm framing. These are still sturdier than most other sheds on the market.
Kevin, Donna or Abbie will talk you through all of the options available, give great advice on base preparation and make the buying process simple and easy. 
Most of our products can be purchased with an insulation package, which will make your building usable all year round. Additionally, double glazed doors and windows can be specified as an option.
Made in the UK our Workshops start at 3m x 2.7m (approx. 10ft x 9ft) and are designed, built, delivered and installed by our dedicated team.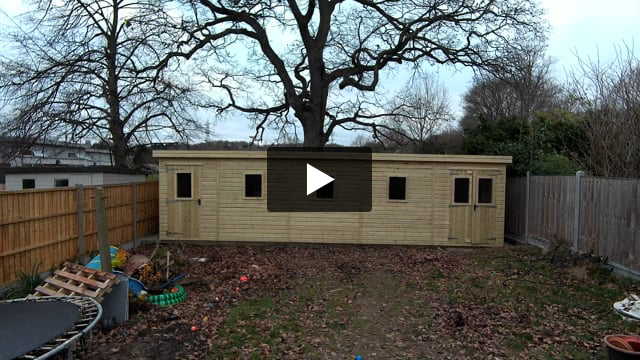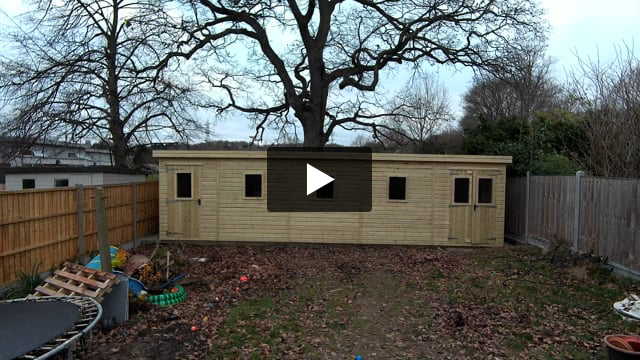 Super heavy duty Garden Workshops specifications
We manufacture all of our sheds. We have a lot of pride in the products and services we offer to ensure you have a great experience from start to finish.
Quality built to order and bespoke options.
Standard and non-standard sizes available to maximise your garden and storage space.
Heavy-duty construction.
22mm (20mm finished) tongue and groove floor and walls. (To give you an idea of strength, 20mm is as thick a modern domestic floorboard!!)
Or, 14mm rustic tongue and groove floor and walls.
40mm x 60mm super heavy duty tanalised wooden framing.
Our timber is tanalised (pressure treated) with Tanalith E for longer service life and minimal maintenance.
Ex 16mm (12.5mm finished) tongue and groove kiln dried roof.
Anthracite Grey Mineral Felt covering for Roof.
Generous 1,830mm internal eaves height (at the lowest point).
Roof trusses are incorporated to prevent any sagging and provides a longer lifespan (apex buildings).
Free 10 year anti-rot warranty. Does not include the roofing felt.
All timber is sourced from sustainable resources.
Delivery
When we provide an estimated quote for your shed, this will include a cost for delivery and installation.
When we send you a quote, we will also give you an estimated time when your shed will be ready.
Your shed will be made to order to meet your specific needs.
When your shed is built, we will get in touch to arrange a delivery date.
Base installation services are also available to some customers.
Ensure you have a suitable base for your new shed and good access to the site. If you have any questions, let us know as soon as possible and we'll be able to advise you.
Our team will deliver and erect your shed. We do not sub-contract out so you can rely on a professional job.
We deliver to mainland UK.
Prices - Use get a quote.
Below are the guide prices for our most popular sizes. Please note: We can make any size you require.
We build and measure our sheds in metres. This is because the timber is supplied to us in metric lengths, so it avoids waste. But we know lots of people prefer to visualise their sheds in feet, so we've included a rough conversion. For the exact measurements, please use the sizes in metres.
We are able to manufacture and install buildings of 30ft by 20ft and bigger if required.

These prices may vary depending on your chosen options and specifications.
Prices exclude delivery, fitting and windows. All prices include VAT
Shed size

3m x 2.7m (approx. 10ft x 9ft)

3.6m x 2.7m (approx. 12ft x 9ft)

4.2m x 2.7m (approx. 14ft x 9ft)

4.8m x 2.7m (approx. 16ft x 9ft)

5.4m x 2.7m (approx. 18ft x 9ft)

6m x 2.7m (approx. 20ft x 9ft)

3m x 3m (approx. 10ft x 10ft)

3.6m x 3m (approx. 12ft x 10ft)

4.2m x 3m (approx. 14ft x 10ft)

4.8m x 3m (approx. 16ft x 10ft)

5.4m x 3m (approx. 18ft x 10ft)

6m x 3m (approx. 20ft x 10ft)

3m x 3.3m (approx. 10ft x 11ft)

3.6m x 3.3m (approx. 12ft x 11ft)

4.2m x 3.3m (approx. 14ft x 11ft)

4.8m x 3.3m (approx. 16ft x 11ft)

5.4m x 3.3m (approx. 18ft x 11ft)

6m x 3.3m (approx. 20ft x 11ft)

3m x 3.6m (approx. 10ft x 12ft)

3.6m x 3.6m (approx. 12ft x 12ft)

4.2m x 3.6m (approx. 14ft x 12ft)

4.8m x 3.6m (approx. 16ft x 12ft)

5.4m x 3.6m (approx. 18ft x 12ft)

6m x 3.6m (approx. 20ft x 12ft)

Small Window (each)

Larger sizes available

Wide door and single door options available

Georgian Windows and Doors

Shelves and Benches options

20mm Apex & Pent Roof

£2685

£2,417

£3071

£2,764

£3460

£3,114

£3845

£3,461

£4230

£3,807

£4620

£4,158

£2899

£2,609

£3300

£2,970

£3710

£3,339

£4120

£3,708

£4530

£4,077

£4940

£4,446

£3100

£2,790

£3530

£3,177

£3965

£3,569

£4400

£3,960

£4830

£4,347

£5265

£4,739

£3300

£2,970

£3760

£3,384

£4220

£3,798

£4675

£4,208

£5130

£4,617

£5590

£5,031

£50

Garages available

Premium and torch on upgraded felt options

Stable doors and opening windows

Insulation, heating and lighting packages

14mm Apex & Pent Roof

£2110

£1,899

£2410

£2,169

£2715

£2,444

£3020

£2,718

£3320

£2,988

£3725

£3,353

£2270

£2,043

£2590

£2,331

£2915

£2,624

£3235

£2,912

£3555

£3,200

£3880

£3,492

£2430

£2,187

£2770

£2,493

£3110

£2,799

£3450

£3,105

£3790

£3,411

£4130

£3,717

£2590

£2,331

£2950

£2,655

£3310

£2,979

£3670

£3,303

£4030

£3,627

£4390

£3,951

£50

Security pack option

Protek Preservative Paint options
1.
Get in touch with us for FREE consultation where we will discuss your specific needs and requirements. We will talk through every detail and provide a non-obligatory quote based on your request and location.
2.
Our shed experts will receive your order and begin building your custom shed. We will provide you with regular updates of your shed's progress so you know exactly when you can expect it.
3.
We will deliver your bespoke shed with our fast UK delivery service. Our sheds will be supplied in panelled sections. The amount of sections will depend on your specific request.
4.
After delivery, our friendly team will install your shed in your chosen place ensuring a hassle-free experience. It's as simple as that!
What our customers say
Fantastic shed, quality and great all round service from ordering to having it delivered and erected, even though it was a 5 hour drive this wasn't too much bother for Sheds Direct.
Lee White,

Eastborne
Pleasure to do business with Kev and his lads. We were kept informed at every step and delivered on the button. These are buildings not shed's, unbelievable quality. You will NOT be disappointed in any way. Go see them!! 8x6 pent - brilliant cheers Kev
Paul Redmond,
Very happy with my shed delivered and installed today by Kev and his team. Great service from start to finish 🙂
Sally Forrest,
Brilliant service from Kevin. Lee and Kevin built my workshop yesterday and it looks excellent. The quality is 10 out of 10.
Ashley Tyler,
Kevin very friendly and efficient to deal with. My 8x8 dutch barn style shed is very solidly constructed from quality wood. Kevin and colleague arrived promptly at the arranged date and time despite the long drive to Norfolk from Yorkshire. Price was very acceptable given the excellent standard of workmanship and materials. I wouldn't hesitate to use this company again and would recommend to anyone.
Ron Driver,
I would definitely recommend Sheds Direct. Top quality product and service. Kevin and Lee did a fab job building the shed and we're really pleased with the end result.
Helen Taylor,
Brilliant from start to finish! Brought the lead time down for us in able to have it in place before the start of term and installed very professionally on the day. Kevin was very helpful and kept us informed throughout the process. Would highly recommend.
Richard James Dixon ,
A friend of mine just bought a Dutch Barn shed to order. Fabulous quality, great service. Looks brilliant.
Shane Barnes ,
Brilliant company to deal with. Kevin is great to communicate with, always answers your questions - really helpful on the install, especially at pointing at the benefits/drawbacks of any decisions you have to… More
Gareth Hughes ,
Have bought x3 sheds from these fella's... Top quality, built to last... Kevin & Lee are super professional... and quite a laugh to boot!
James Mitchell ,
Kevin made our 18ft X 8ft shed that I'll be using as my work studio and it is perfect! Quality is unbelievable, you can walk on roof if you need to and holds completely strong. They had it finished within 2 hours aswell. Price was very reasonable for what we ordered. 100% recommend.
Sophie Chaplin ,
Price Efficiency Easy to resolve any problems. Much better service than a previous company I ordered off of. The product never arrived even after 3months. Just excuse after excuse. Thank you so much for a top quality building
Michelle Bartlett ,
I've just had a 16ft by 10ft workshop put in and to say that I am over the moon wouldn't be doing justice to the high quality build, or to the A1 service I received. It was a real joy dealing with Kev and Dave. It was delivered over 200 miles without any problems! Be smart and buy on today. Dom (Oxfordshire)
Dom Sweeney ,
The new shed came today as promised. Kevin & Lee did a great job erecting it. The quality of it is good, definitely worth buying. I can recommend this company.
Kevin Treacher ,
Great shed. Very sturdy, looks well and the guys got it put up in the rain. Worth spending the extra from the majority of flat pack stuff you will find online
Johny Holloway ,
Great guys to do business with. Great quality shed and super service. 👍
Leo Keuken ,
Kevin is a great guy to deal with. If you have any doubts about what your getting do not worry , the build quality of the structure is exceptional.
Andy Lucas ,
From the time we initially requested a quote to the construction of the shed in our garden we dealt with and were regularly updated by Kevin
Daniela Somerscales ,
Just brought the dutch barn shed and had it fitted, it's fantastic and Kevin and his team are total professionals, don't buy a shed from anywhere else, because if you neighbour buys one from Kevin, and you don't, trust me yours will look rubbish.. My shed is like a log cabin and you could move your furniture in.
Peter Kandola ,
A big THANK YOU to all the team at Sheds Direct. Excellent service and customer satisfaction from start to finish. I've already passed on their details to friends, clients etc such was my satisfaction their work! We will definitely be using Sheds Direct again in the future.
Shane McLeod,